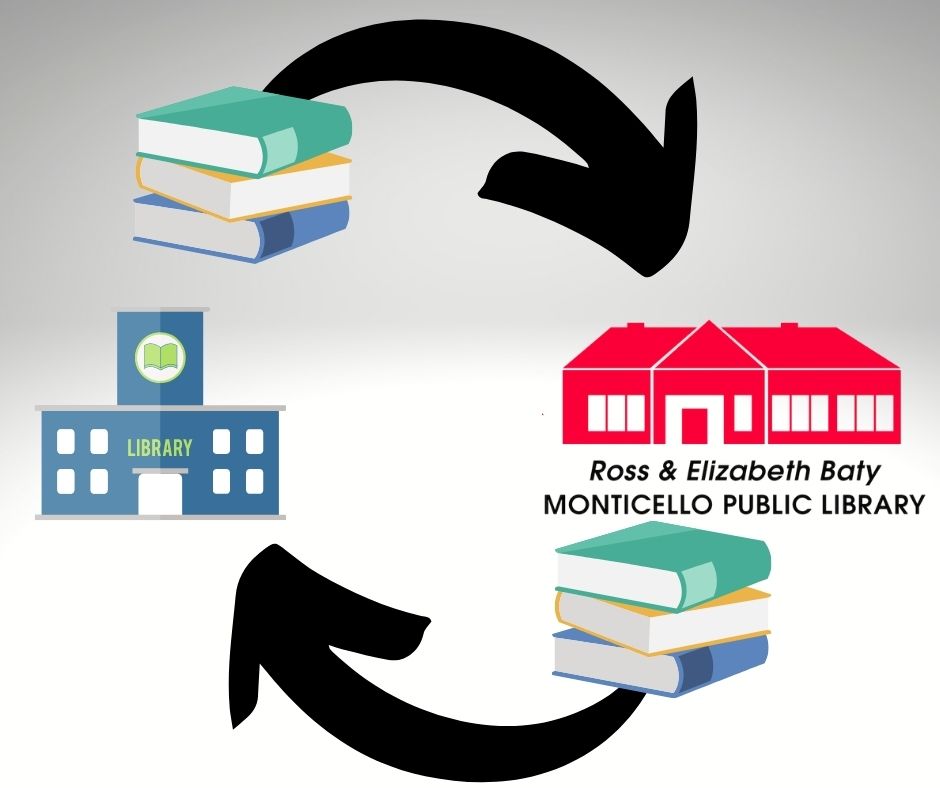 The Ross and Elizabeth Baty Monticello Public Library participates in the national interlibrary loan program which permits libraries to borrow materials from other libraries for a cost of $2.00 per item. The $2.00 fee is collected when the patron checks out the interlibrary loan item. If a patron fails to pick up an Interlibrary loan item prior the due date provided by the issuing institituion, an additional $1.00 fee will be charged to the patron. (Needs board approval)

Materials that may be borrowed from other libraries are: Books, Books on CD, DVDs, Blu-Ray, periodicals, microfilm, and genealogy materials.

This service is available to all patrons who have an account in good standing. Items owned by this library but checked out to another patron may not be borrowed through interlibrary loan unless the item requested is more than two months overdue.

The$2.00 per item has been established to help with delivery fees. (Book clubs borrowing multiple copies from the same library will be charged $1.00 per item). The patron is responsible for charges or fees imposed by the lending library. If the patron does not wish to borrow an item if charges are imposed (such as insurance fees, lending fees, photocopying fees) this must be stipulated at the time the item is requested.

The checkout period is set by the lending library. If an item is needed longer, the lending library will be contacted to see if renewal is possible.

Fines will be assessed at a rate of $1.00 per day, not to exceed the cost of the item. Patrons who are habitually late in returning ILL materials may have their ILL privileges suspended.

The number of items requested may be restricted and is at the discretion of the director. Requests that the staff determines may violate copyright laws will not be accepted.